Stepping Up to Serve – Featuring Blake Schwartz
May 14, 2020
Original Article by Emily Packard
Thousands of NC State students recently became members of an alumni family stretching around the world. They're entering this family in the most unexpected of manners — launched into a new phase of life amongst the challenges of the COVID-19 pandemic. NC State graduates, with their Think and Do spirits, will turn those challenges into opportunities for growth.
The Class of 2020 includes many members who will pursue further education or careers in service-related fields where they are needed now more than ever. We spoke to some of those graduates about an unexpected finale to their NC State journey, and how the university prepared them for this moment.

Blake Schwartz
Ph.D. in Operations Research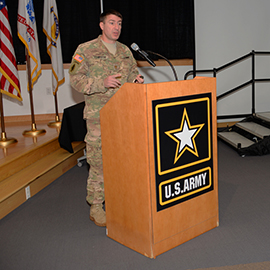 When Blake Schwartz came to NC State, he already had quite a few achievements to his name. Schwartz graduated from the United States Military Academy at West Point in 2003 and eventually became an operations research analyst with the U.S. Army, earning the rank of major.
He arrived at NC State in 2011 to pursue a Master of Science in operations research and graduated in 2013. Schwartz already knew NC State and the Graduate School's excellent academic reputation, and he felt that the doctoral program in engineering was the right fit for reaching his goals.
"The faculty is extremely accessible and easy to work with, and I found the quality of instruction to be very high," said Schwartz. "Additionally, as an active duty member of the military, I knew that NC State has a history of military graduate students and an outstanding support network."
Schwartz wanted to conduct doctoral research applicable to the Army, in order to improve military operations. He used network modeling and simulation techniques to formulate a better way to plan and execute military logistics networks, which he hopes will be used by the military in the future.
For his work, Schwartz was awarded the 2018 Army Operations Research Symposium Best Paper for his research modeling logistics networks to support military operations. His research will help support the Military Logistics Network Planning System, which provides automated assistance for military planners, and could be particularly applicable in humanitarian and disaster-relief efforts.
The U.S. Military Academy funded his doctoral studies, and it's where he'll return this summer, teaching in the Department of Mathematical Sciences for his next assignment. His time at NC State prepared him to build a future career through the contacts he made with faculty and students, along with being able to present his research and publish articles.
His prior military experience also helped him build a unique perspective of the COVID-19 pandemic.
"If no one's shooting at you, there's no reason to panic, and you'll find that panic never helps anyway," said Schwartz. "The Army also teaches cooperation and teamwork in dealing with difficult situations, something that's very applicable today."
For his fellow graduates in the Class of 2020, Schwartz emphasizes formulating goals and having a plan to achieve them, while embracing flexibility.
"Your plan will have to change, and things won't always go your way, but if you keep working toward your goals, you can get there," he said.